Welcome to the Central Alberta Softball Umpires Association!
Central Alberta Softball Umpires Association (CASUA) is a member of the Alberta Softball Umpires Association (ASUA), which oversees Softball Canada certification for the province of Alberta. CASUA oversees the umpire program in Central Alberta (Zone 4) and the northern section of Zone 2.
Why should I become a Softball Umpire?
Many new umpires get started because it is a great part-time summer job. During the week, games are in the evening, and you can also work weekend tournaments.
For current or former softball players, umpiring allows you to stay involved and give something back to the game. Not only that you get the "best seat in the house" to see all the action.
You are part of an exclusive group within the softball community. CASUA is the largest umpire association in Alberta with members who have umpired at events across Canada.
Umpiring is good exercise, since umpires are on the diamond for the entire game. During a tournament, you could officiate three or more games a day.
Softball teaches life skills that are important on and off the diamond, including: Self-confidence, Teamwork, Cooperation, Decision making, Dealing with confrontation, Public speaking skills, and Fair play and impartiality.
To help answer any questions you may have, the CASUA has put together the following guide for new umpires (and their parents)!
New Umpire Welcome Guide (PDF)
Click here, or on the image below to download the New Umpire Welcome Guide.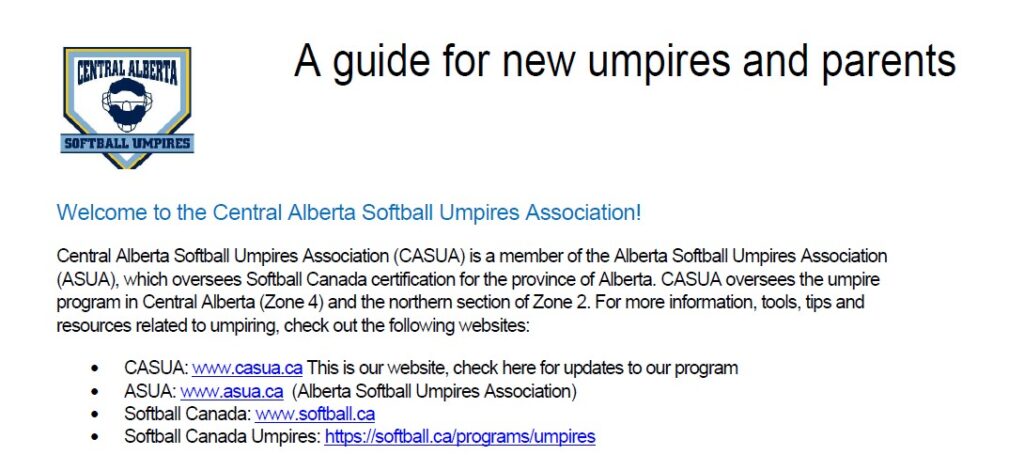 To register as a new umpire, fill out the following form:
Once registered, select the certification clinic you will be attending:
For additional information, please email the CASUA at [email protected].