Record Number of CASUA Umpires Worked Canadian and Western Championships
ASUA has announced that the following CASUA umpire attended National and Western Championships in addition to all the provincial championships we were represented at.
2022 Season
| | | | | |
| --- | --- | --- | --- | --- |
| | Umpire | Event | Location | Dates |
| | Sheri Morbeck | U17A Provincial Evaluator, promoted to level 3 | Calgary, Ab. | Jul. 15-17 |
| | Jeremy Organ | U17A Provincial Evaluator, promoted to level 3 | Calgary, Ab. | Jul. 15-17 |
| | | | | |
| | Malcolm Murray | U23 Men's FP | Carp, On. | Aug. 2-7 |
| | | | | |
| | Jordanne Ronak | U15 Girl's FP | Saskatoon, Sk. | Aug. 3-7 |
| | TJ Geertsma | U15 Girl's FP | Saskatoon, Sk. | Aug. 3-7 |
| | Doug Smith | U15 Girl's FP | Saskatoon, Sk. | Aug. 3-7 |
| | | | | |
| | Brad Dingman | U17 Westerns | St. Albert, Ab. | Aug. 3-7 |
| | Dorothy Leiman | U17 Westerns | St. Albert, Ab. | Aug. 3-7 |
| | Sheri Morbeck | U17 Westerns | St. Albert, Ab. | Aug. 3-7 |
| | | | | |
| | Jeremy Organ | Women's Westerns | Blackfalds, Ab. | Aug. 4-7 |
| | Shane Sroka | Women's Westerns | Blackfalds, Ab. | Aug. 4-7 |
| | Chris Harper | Women's Westerns | Blackfalds, Ab. | Aug. 4-7 |
| | Danny Baron | Women's Westerns | Blackfalds, Ab. | Aug. 4-7 |
| | Glenn Stupar | Women's Westerns | Blackfalds, Ab. | Aug. 4-7 |
| | Ron LeMasurier | Women's Westerns | Blackfalds,Ab. | Aug. 4-7 |
| | Brad Lyon | Women's Westerns, Umpire in Chief | Blackfalds,Ab. | Aug. 4-7 |
| | | | | |
| | Chris Harper | Senior Men's FP | St. John's, NL | Aug. 31-Sep. 4 |
_______________________________________________________________________________________
2021 Mechanics Clinic Held in Lacombe
Thank you for attending the mechanics clinic in Lacombe for our rookie and newer umpires.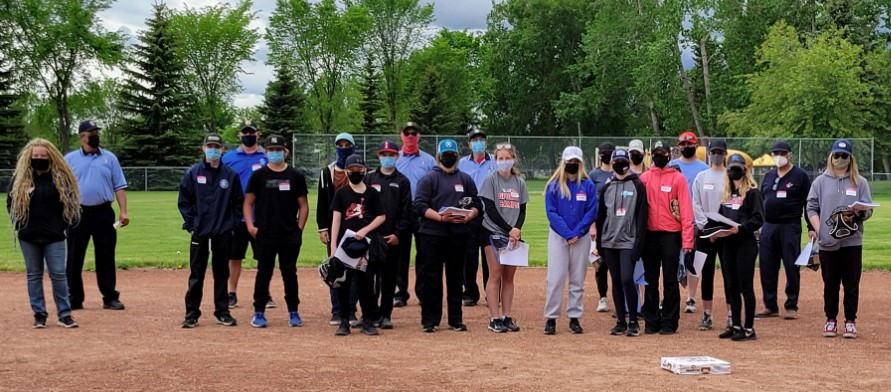 Hope you found it interesting and picked up some useful tips to start you in your softball umpiring career.
Anyone still needing shirts or pants, the website has been updated with new items.
As a side note, my wife is especially thankful that most of the equipment and clothing was taken!
If you have not written your exam, please do so while the information is still fresh in your mind.
Anyone who still has to pay for your membership, you can make an e-transfer to Brad Lyon. Remember without your payment you do not have insurance coverage.
___________________________________________________________________
CASUA Awarded Winter Games Grant
CASUA is proud to announce that we have been awarded a grant from the Canada Winter Games Legacy Fund which will be used to promote our program by supporting recruitment, training, and retention of school age umpires.
The grant be put to work once we are back on a solid footing following the Covid pandemic restrictions. For the official announcement, please see this
Our thanks and appreciation to the Canada Winter Games Legacy Fund for helping to promote the growth of sporting officials.

___________________________________________________________________
Ron MacKenzie – Seasons of Service
We received this letter from Ron MacKenzie one of our senior umpires who has moved to Calgary.
As all our members are part of the executive through your membership it seems appropriate to share the letter with you.
Ron is a great mentor to our younger officials, as well as a comedian. The letter follows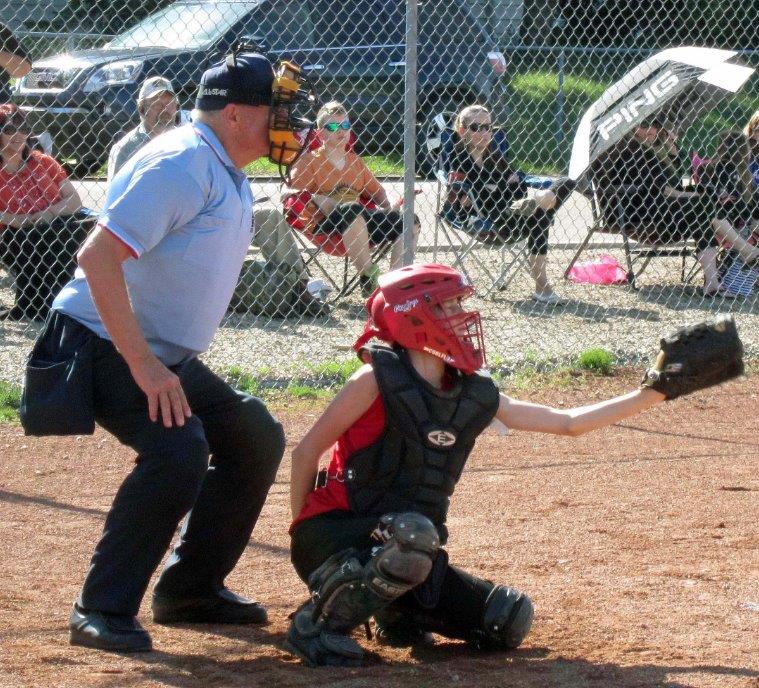 It is the small moments that help us remember all the years together on the ball diamonds, through good weather, wet weather, storms, and whatever Mother Nature produced.
The countless hours that the executive put into the Red Deer Zone (CASUA) has produced some of the best umpires and are ranked #1 in the province — maybe not by some observers, but I certainly think so. After witnessing the two main zones, we are as good or better.
Your mentorship and ability to lead the younger and older umpires has really paid off in many ways, as our numbers are the highest in the province for working umpires. This is evident in the fact that all the other zones rely on us to fill the gaps.
May you and all the others keep up the hard work and maintain the standard of excellence that we have strived and become known for. If we continue to do so, we will maintain our high rating for umpiring in Alberta.
Two sayings that I have used time to time in my career to decrease the tension in a game: TOO CLOSE: TOO CLOSE TO CALL, SAFE! and WHEN IN DOUBT, NOT OUT!
In closing, I hope that all your balls and strikes lead to a quick game with no problems. Be honest, umpire your best, and most important of all, have a good time!
Yours in Umpiring,
Ron MacKenzie
_______________________________________________________________________________________
Brad Lyon Joins Canadian Indicator Club
Brad Lyon received the prestigious Indicator Award at the Blue Convention in Montreal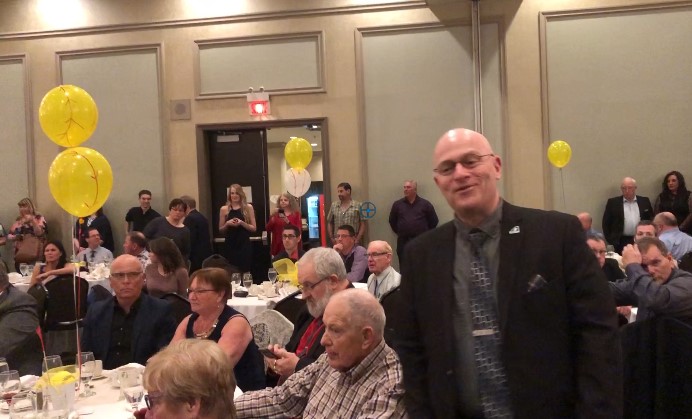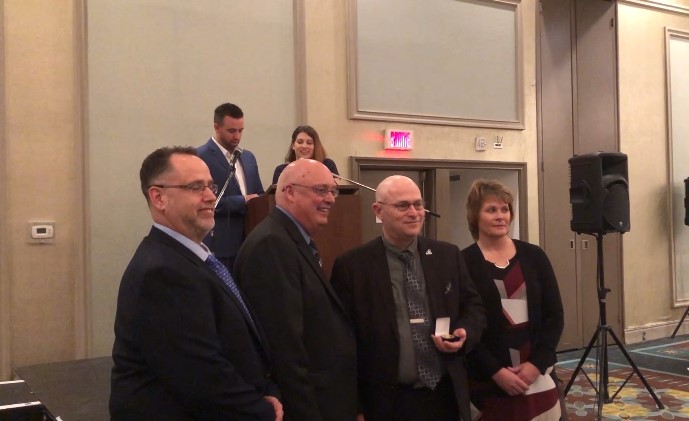 Softball Canada has announced the recipients of the Indicator Club award and it includes our very own Brad Lyon for all the work within our association as well as at the provincial and national levels.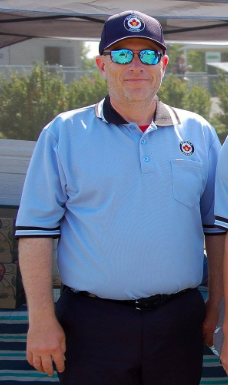 Brad has umpired and supervised up to the national level as well as serving in a variety of administrative roles in different softball organizations in Alberta, Ontario and B.C. Most recently Brad has been our association president for two years and has instituted.
improved clinic training
expanded the mentoring program
updated policies and by laws
instrumental in improving our website quality
member of the provincial board
Also included are Jim Noble (Calgary) , Richard Korbyl (Edmonton) and Ed Ridgen (Calgary).
Learn more about the Indicator Club and see previous winners
_______________________________________________________________________________________
Minor League Professional Baseball School
Levi Wagner from Clive is both a softball and baseball umpire.
Levi attended Minor League Baseball's Umpire school in Vero Beach, Florida for four weeks starting in January, Here are his observations on the clinic.
The program is very extensive and is held on a complex that includes a 4,500 seat stadium, 10 ball diamonds and all the other facilities used by professional umpires in the major leagues.
Since 1998, 65 Umpires evaluated and developed by Academy Instructors have been hired full time by Major League Baseball.
From Week 1 Levi has told us "Done my first week.
They're teaching me the 2 umpire system and the mechanics they want me to do for professional baseball.
And we're going through every rule in the official baseball rules throughout the month I'm here, with homework and tests most days on the rules.
I am having lots of fun here
Week 2
We just finished covering interference / obstruction in the classroom, took 3 days to finish as it's a big and important subject.
Most students are starting to figure out the two umpire system on the field by now.
We've had guest visits from current and past MLB umpires, and a young aspiring umpire (see MiLB umpire academy Facebook.)
Having lots of fun and excited for the last two weeks of the school!"
Week 3
Routine has been same so far.
Now we're going into review only for the field drills for the last week.
I get Sunday's off, and I usually go to the beach, or go fishing.
But this week I got to go to the Pro Bowl in Orlando last Sunday which was great.
Can't wait to finish my last week.
Week 4
Levi Wagner has sent his final observations from the Baseball Umpire Academy
"I finished the academy.
This past month has been a great experience.
I didn't get a job sadly, but I am on the reserve list.
Which basically means I'm a backup.
I was told to come back next year but work as many games as I can to get more experience."
CASUA congratulates Levi on ascending to a higher level of learning and what it takes to be a professional umpire and wish him the best if he gets called this season to work, or returns to the school again next year.
_______________________________________________________________________________________
Story of a 12 year old umpire